New Mexico Market Place Business Profile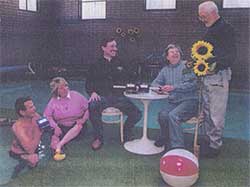 GMX Magnetic Water Conditioning can solve a host of problems, including limescale deposits in pools and spas. GMX marketing director Larry Brown (center) enjoys hearing feedback from satisfied customers like Alex Newman and Margaret Lilley (left), and Jan and Bob Miller (right). Newman saved $1,100 in annual pool chemical use, while the Millers saved 900 gallons of water the first month.
By Page Turner©
Dry hair and itchy skin or supple skin and soft, shiny hair. Frosty white shower doors caked with spots or clear, easytoclean showers. Crusty deposits and mineral stains or shiny sinks and faucets.
These are the real choices New Mexico homeowners make when deciding whether to control our notoriously hard water. And, all these problems can be solved by installing GMX Magnetic Water Conditioning.
Can there really be a way of conditioning hard water without salt, bulky tanks, maintenance or wasted water? Can there truly be a system that effectively controls hard water and yet is safe for plants and for people with high blood pressure and heart disease? Yes, GMX Magnetic Water Conditioning.
Bob and Jan Miller have used water softeners in Albuquerque for nearly 30 years and switched to GMX in November 2003. "We were happy with our softener," says Bob. "but I was getting tired of carrying those 40 pound salt bags every week." According to Jan, "We're getting better control of the minerals since switching to GMX my sink looks shinier than it has in years, and my house plants have perked up and turned greener. We got our first water bill since switching we saved about 900 gallons the first month by turning the softener off."
There are two ways to solve hard water problems. Traditional, old, salt softening, or GMX Magnetic Water Conditioning. "I was nine years into a research career with Colorado State University when my wife Ruthie discovered GMX." says Larry Brown, GMX Marketing Director. A motel owner who used Ruthie's landscaping business had GMX on two motels. Their laundry was coming out whiter, the ice machine was working right for the first time, and he had cleaned five gallons of mineral sludge out of his commercial water heater.
"I was skeptical," admits Brown. "But when you're trained in field research, you test things in real life situations and observe. So we put GMX on our house. By the second day, Ruthie's shampoo was working twice as good and her hair was softer and easier to brush. By the seventh day, our water was getting hotter as GMX descaled my electric water heater elements." he says. "I'm still using the same heater with the same elements 10 years later!"
Ruthie immediately added GMX to her product line and a year later Larry resigned his research job to "tell the world about GMX it's just that good and that important."
GMX Water Conditioning is also fantastic for circulating systems like pools, spas, swamp coolers and boilers, "We had tried everything the pool experts sold us to remove the heavy limescale deposit on our tile, including a buffer and steam cleaner," says Alex Newman of Paradise Hills. "They told us we were going to have to replace the tile." Newman installed GMX Water Conditioners on the pool in February 2002. "It was so surprising, I'm glad we took before and after photos," said Margaret Lilley. "In 90 days, the ugly deposit had softened and we were able to brush it away!" According to Newman, "Our biggest surprise came a year later when I compared our annual chemical use. We had saved nearly $1,100!"
Hard water minerals are relentlessly building up in your water heater, dishwasher, shower heads and other fixtures. Listen to your water heater when it tires up. Does it make rumbling noises? With plumbing repairs, appliance and fixture replacements, and inefficient water heaters gobbling up extra energy, hard water costs you an average of $500 per year or more! GMX Magnetic Water Conditioning usually pays for itself within two years.
Brown has been installing GMX water conditioners for customers in the Albuquerque area and northern New Mexico for 10 years. He meets personally with interested customers. "After seeing their mineral problems and plumbing system, I can give them accurate expectations and price quotes," he says. Brown does most installations himself, in 30 minutes to an hour; and he doesn't have to cut into your pipes. Best of all, you are protected by a 90 day, moneyback, satisfaction guarantee and a lifetime product warranty.