Download this document as a .pdf - click here
---
REMOVAL OF SCALES
IN SOLAR HEATING SYSTEM AT INFOSYS LTD, MYSORE.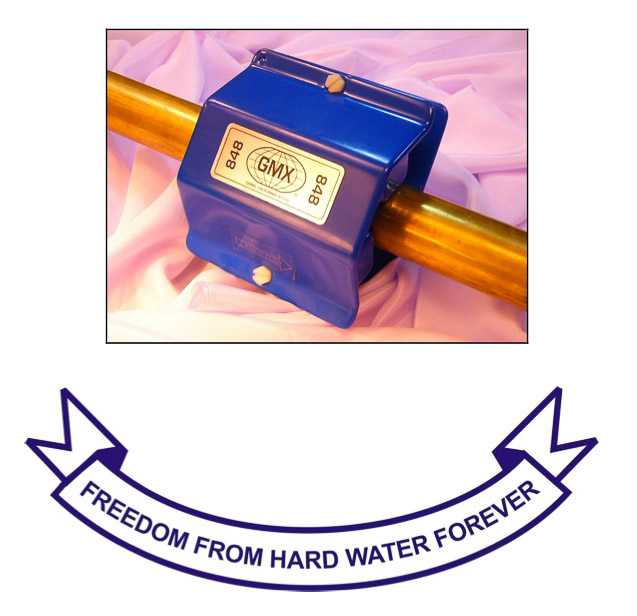 HOW DOES GMX WORK?
When the GMX units are fitted on a pipeline, the water flowing through the pipeline is subjected to the intense, focused magnetic field. The strong magnetic field, affects the physical structure of the minerals, thereby altering their shape. There is no chemistry involved, only physics.

The minerals continue to remain in the water, but now, the altered physical state prevents the minerals from exhibiting hardness, thus the water becomes soft. One may wonder what difference does it make if the physical structure changes, when the chemical remains the same?

As an example, consider water. It is a liquid, chemically called H2O. If we freeze water, it becomes ice, which is a solid, but it is still chemically, H2O. If we boil it, it becomes a vapour, but chemically it is still H2O. Water transforms from a liquid to ice, to a vapour (and vice versa), thus exhibiting 3 distinct physical states, while it is still the same chemical. GMX performs in a similar manner, by changing the physical state of the minerals, while maintaining their chemical state.

This is the reason why we cannot use a laboratory test to check the hardness of the water after treating with GMX. Please note that, a laboratory analysis is a chemical test that checks for the presence of certain chemicals in the water. It will not register any change in the physical structure of the minerals.

REPORT ON MAGNETIC FLUID CONDITIONERS

SITE : M/S. INFOSYS LTD, MYSORE.
APPLICATION : SOLAR HEATERS – 45 Systems
DATE OF GMX INSTALLATION : 11.06.10
PRE – INSTALLATION OBSERVATIONS – (AS ON 11.06.10) :-
(a) Accumulation of hard scales in the coils, solar panels and solar tank.
(b) Reduced heat transfer due to the scale accumulation, which increases the power consumption (even twice than normal)
Frequent replacement of coils (heating element) in the solar tank over a period of
3 to 4 months.
REDUCED FLOW RATE: Frequent de-scaling process in solar panel is required over a period of 6 months, to attain the optimum flow rate.
(or)
Back flushing in solar panels is required for every month to attain the optimum flow rate.
OBSERVATION AFTER INSTALLATION OF MAGNETIC FLUID CONDITIONERS
Total removal of scales in the coils, solar panels and solar tank.
No further accumulation of scale.
RESULT (ON THE COMPLETION OF EXPERIMENT: 19.07.10)
GMX Magnetic Fluid Conditioners has greatly reduced the maintenance period by avoiding the further accumulation of scales and removing the existing scale in your solar heating system, without involving any chemicals. When the chemicals used in the systems are drastically reduced, the life and the performance of your entire systems will be drastically increased.
CONCLUSION
Implementation of GMX Magnetic fluid conditioners in all your solar heaters and water circuits will help you to save a lot of time and money, with 100 % environmental benefit since GMX fluid conditioner is non chemical.
---
INFOSYS – SOLAR HEATING SYSTEMS MYSORE
PLUMBING LINE DIAGRAM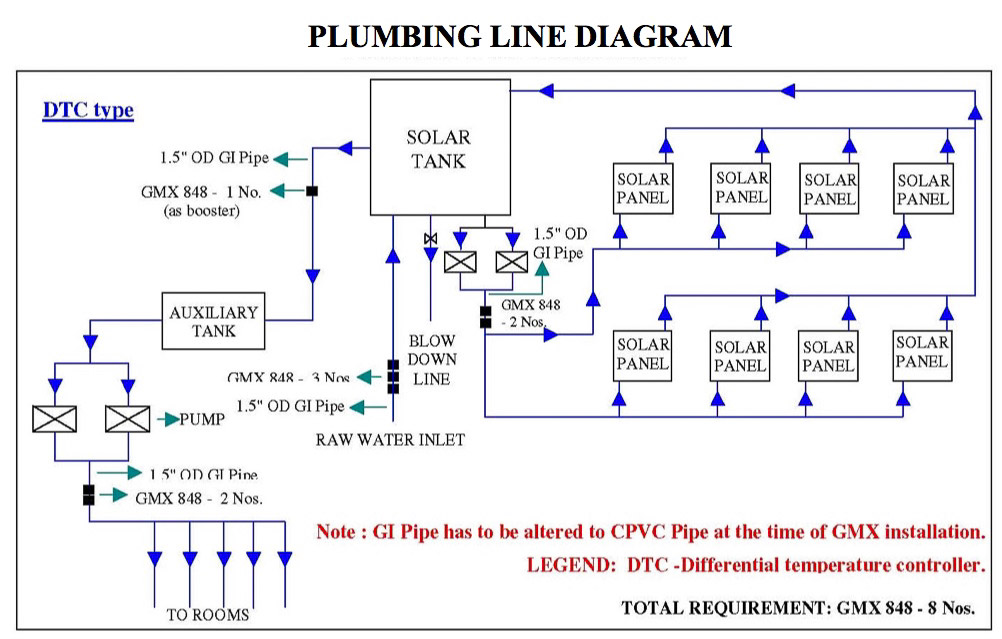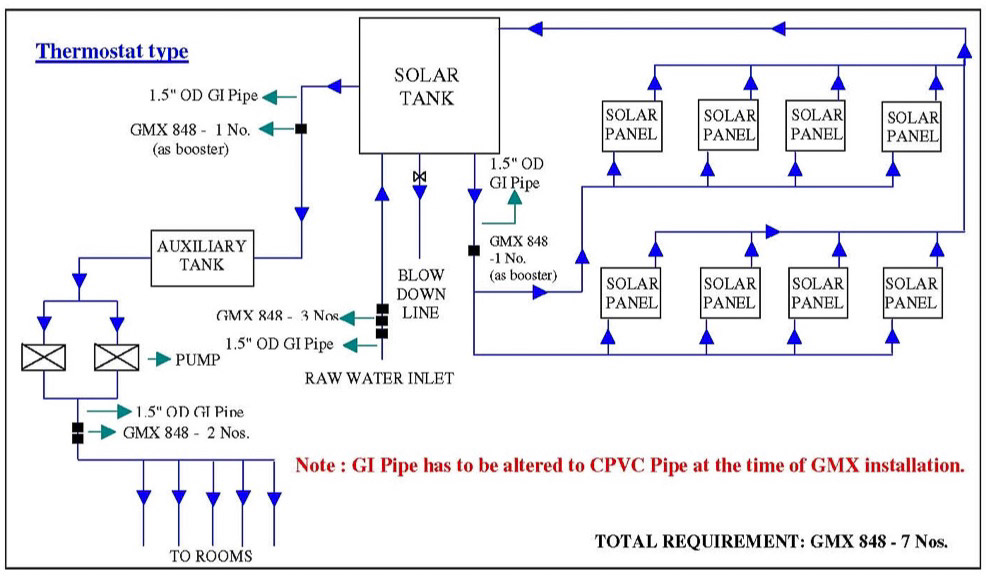 INFOSYS - MYSORE GMX ON SOLAR HEATERS
INSTALLATION PHOTOS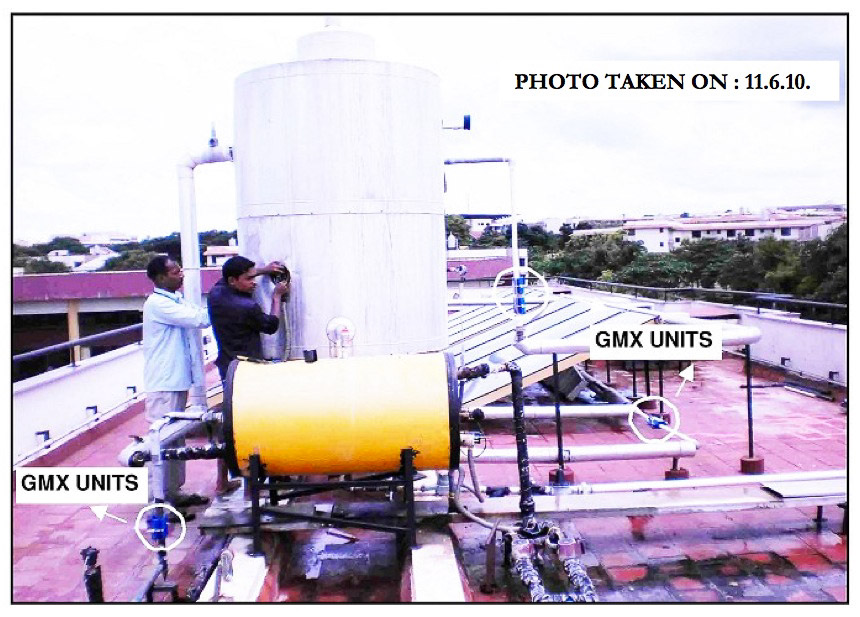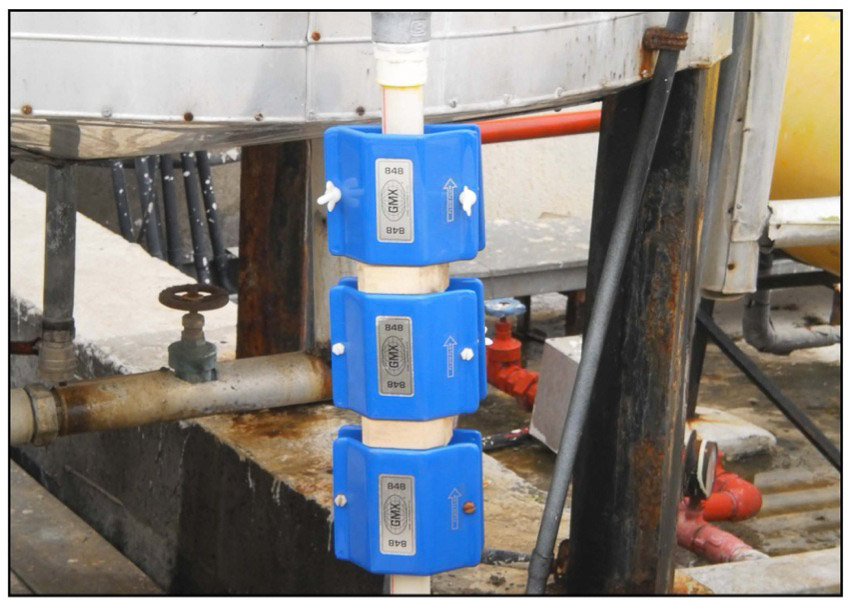 GMX ON SOLAR HEATERS
SCALES WERE LOOSENED AND REMOVED FROM THE COILS
AND SOLAR TANK THROUGH BLOW DOWN 10 DAYS AFTER GMX INSTALLATION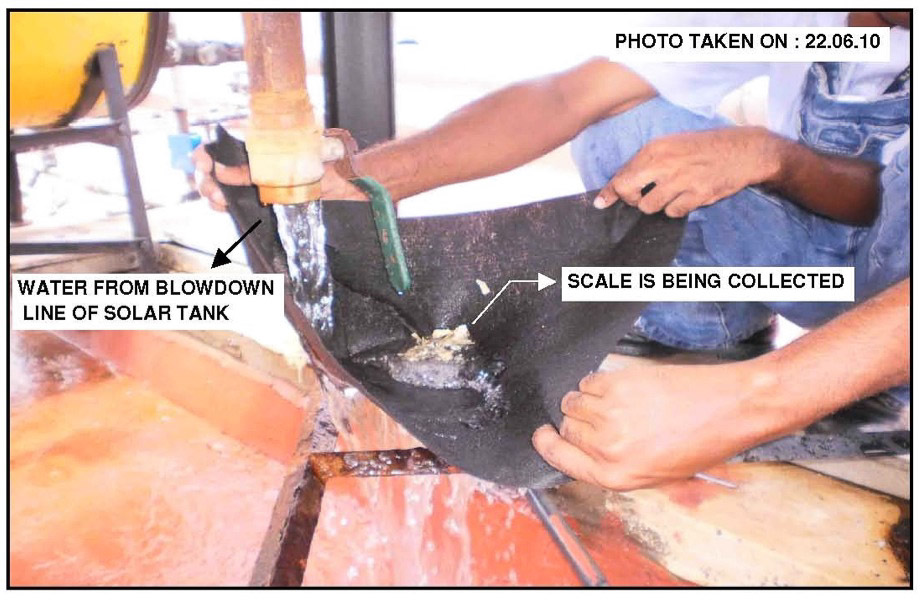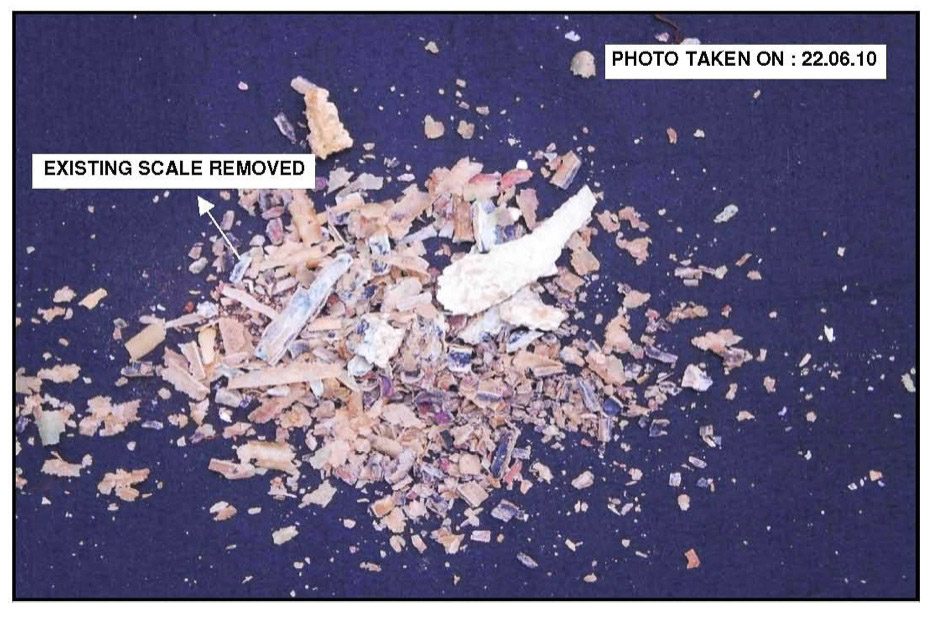 FURTHER REMOVAL OF SCALES THROUGH BLOWDOWN 20 DAYS AFTER GMX INSTALLATION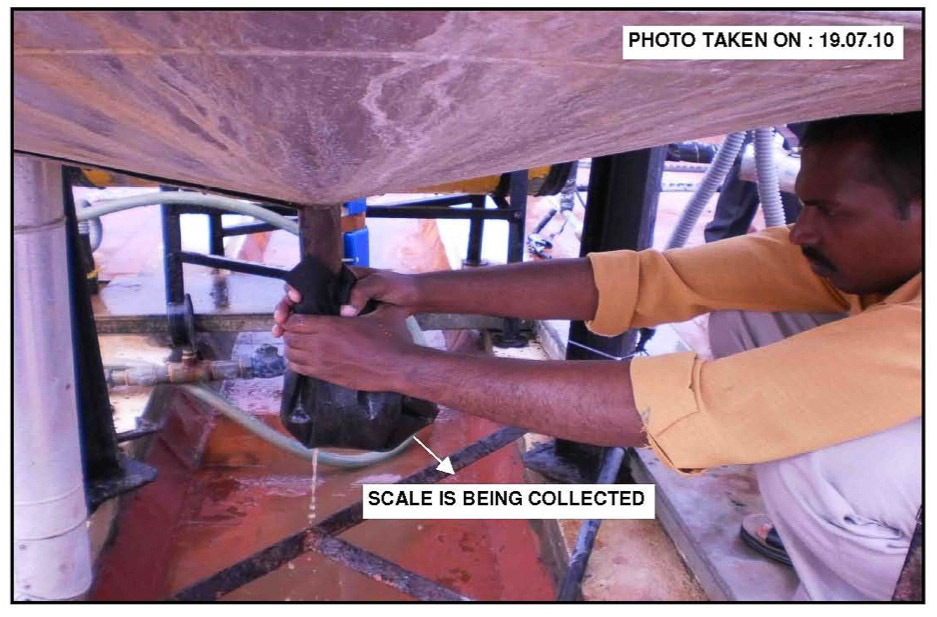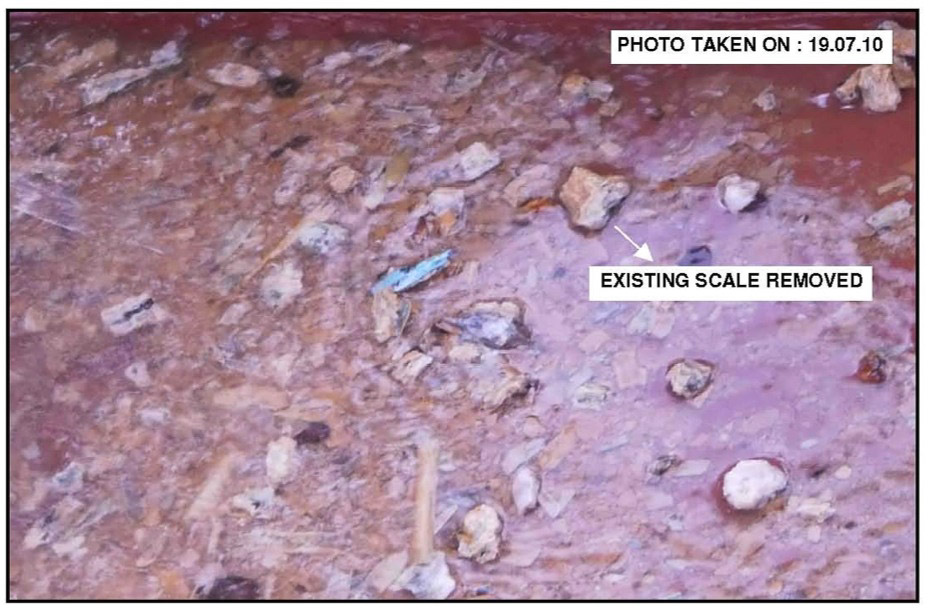 FIXING OF BAG IN THE SOLAR PANEL TO TRAP THE EXISTING SCALE DURING BACK FLUSHING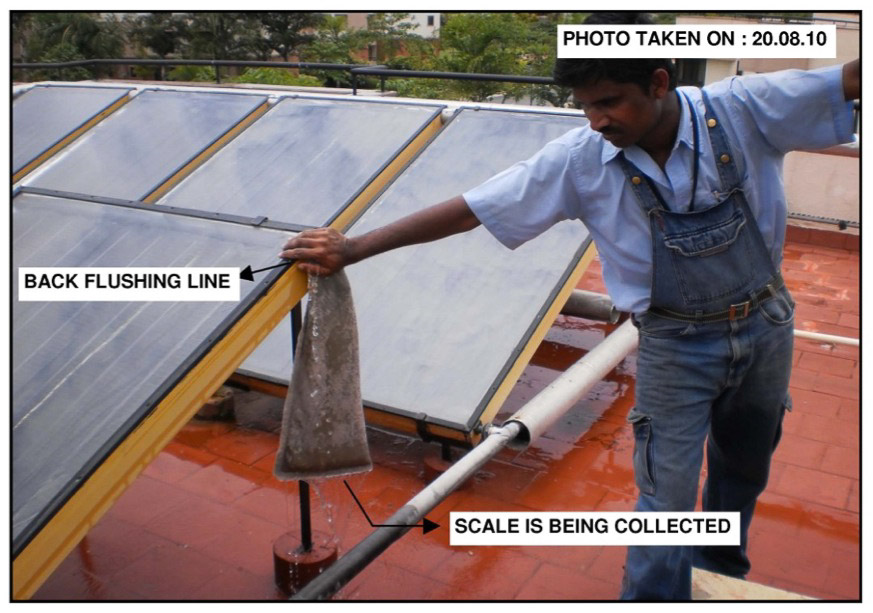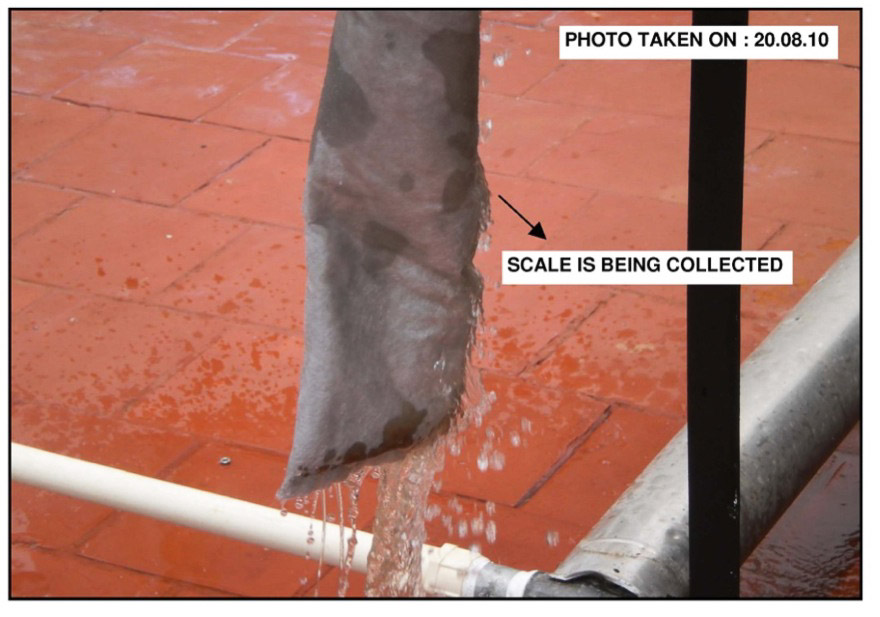 COLLECTED SCALES FROM THE SOLAR PANELS DURING BACK FLUSHING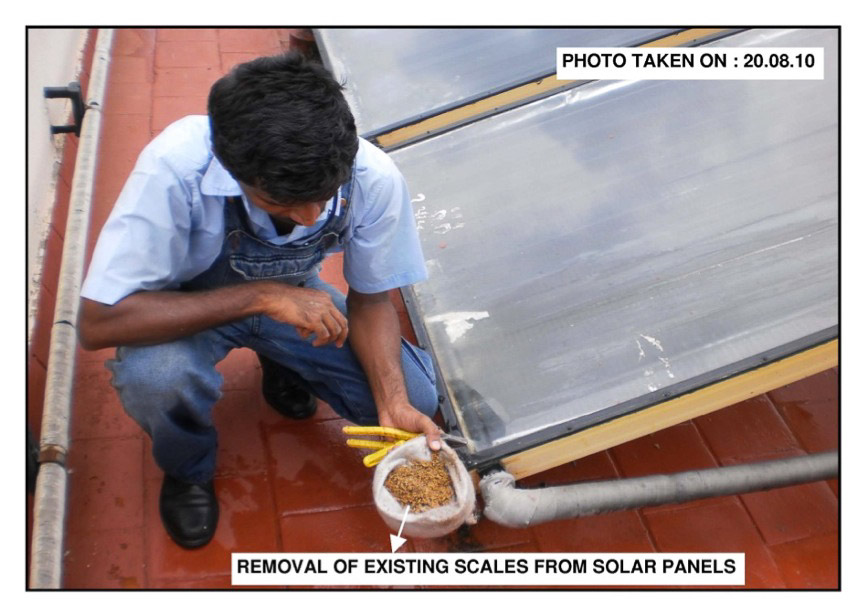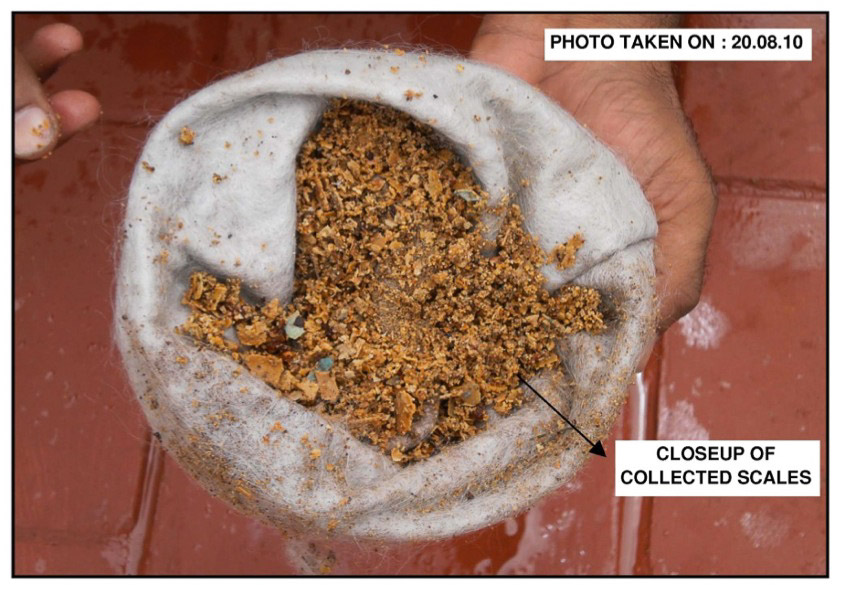 Solar heater capacity: 3000 Ltrs
Brand: TATA BP
Before fixing GMX: : 4mmscalethickness on the coils.
Age of Solar heater : 1.5 Years.

GMX Fitted on: 11.06.10, Building No. : 66
Ist Inspection - 22.06.10
2ndInspection-02.07.10
3rd Inspection - 19.07.10
Result: Total removal of hard scale & no further deposit.